These are the fly patterns our members have chosen for our "Fly of The Month" fly tying contest. Submit a picture of your fly of the month to cornhuskerflyofthemonth@gmail.com to be entered into the monthly contest!!! Deadline for your fly submissions will be March 14th at Midnight!!
To see original fly patterns developed by CFF members, be sure to check out Member Flies

For the 2021 Fly of the Month List Click Here!

March 2021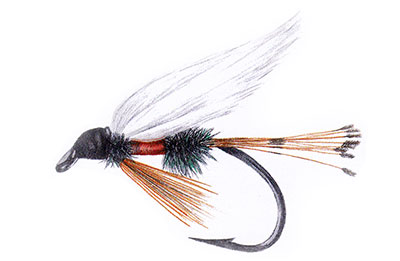 Year: 1878 Fly Tyer: John Haily Location: New York, USA
The Original Recipe
Hook: Down eye wet fly, #10-16
Thread: Black tying silk
Tail: Golden pheasant tippet fibers
Body: Peacock herl
Central Body: Red tying silk or floss
Throat Hackle: Brown hen hackle
Wings: Matching slips of white duck quill
Head: Varnished black tying silk
This is an original fly taken from the book called

"The History of Fly-Fishing in Fifty Flies:"